About this project
"Le Simulateur de remboursement santé AGIPI" (AGIPI Health expense reimbursement simulator) is one of AGIPI's tool, allowing users to have information and expense reimbursement **simulations related to the health care product "Agipi Santé"
---
My role
On this project, I was in charge of the UX and UI Design and the front-end integration, working with the ADIS developers team on a Vue.js project.
---
Context of the project
With the launch of its brand new institutional website, AGIPI's intent was to provide tools and informations to let people better understand the insurance world and AGIPI's products.
Starting with the creation of the Health expense reimbursement simulator inside this institutional website, to make more accessible the "Agipi Santé" pricing and coverage to its 3 range of users: insurance agents Axa, already insured people and prospects.
---
Identification of the need
3 populations, several needs, 1 tool.
AXA Insurance agents at the pre-sale stage, by phone or live, must answer questions from prospects about reimbursements and coverage.
Insured clients wants to quickly estimate the reimbursement they'll get before making an expanse.
We want to let prospects have an overview of the different coverage and their pricing and the possibility to contact an insurance agent close to their location.
In addition, all of them should find more details about the "Agipi Santé" product, medical acts etc.
---
Approach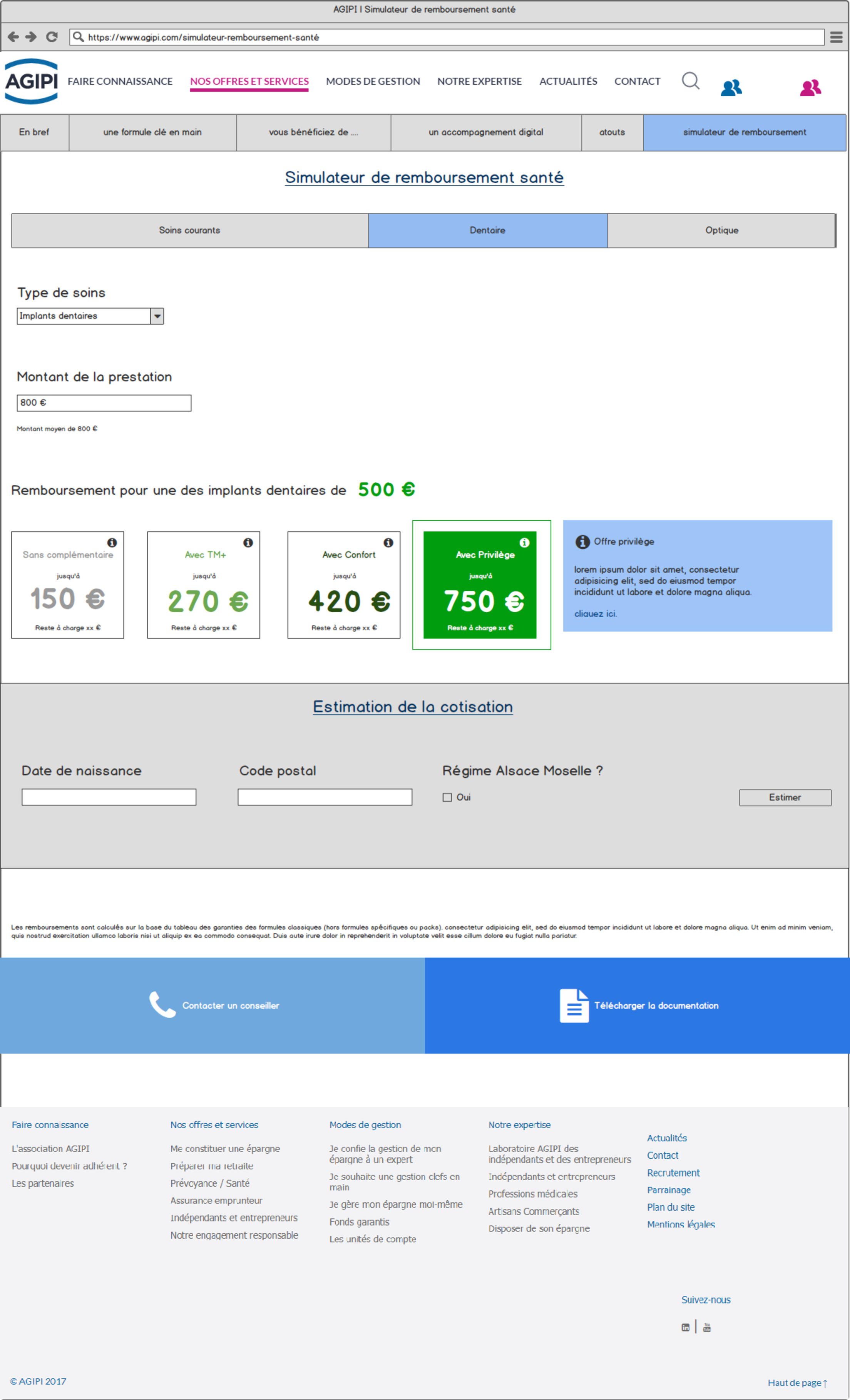 Easy to setup
The goal was to keep the tool as simple and self-explaining as possible. The choice of short sentences and large toggle buttons was made on this behalf, allowing users get to a pricing, within a few clicks.
Providing informations
By choosing a side-by side layout on desktop that can welcome contextual informations, helping the users with definitions of the medical slang, details about the offers and useful links to more detailed page,. On mobile those informations will be rendered below the dedicated section. And adding the average cost of each medical act, in case they didn't had any idea below the dedicated field.
Not being intrusive
By keeping the focus should remain on the simulator part and not being intrusive about the contact and subscription (not asking for personal informations to get an estimation by mail or phone), but still make it accessible.
The funnel
Users get the reimbursement estimation they came for.
Then they'll fill the minimum informations we need to estimate a pricing
The possibility to locate and contact an insurance agent close to their location, is available at the bottom of the simulator, for people who are interested by the product.
---
User Interface